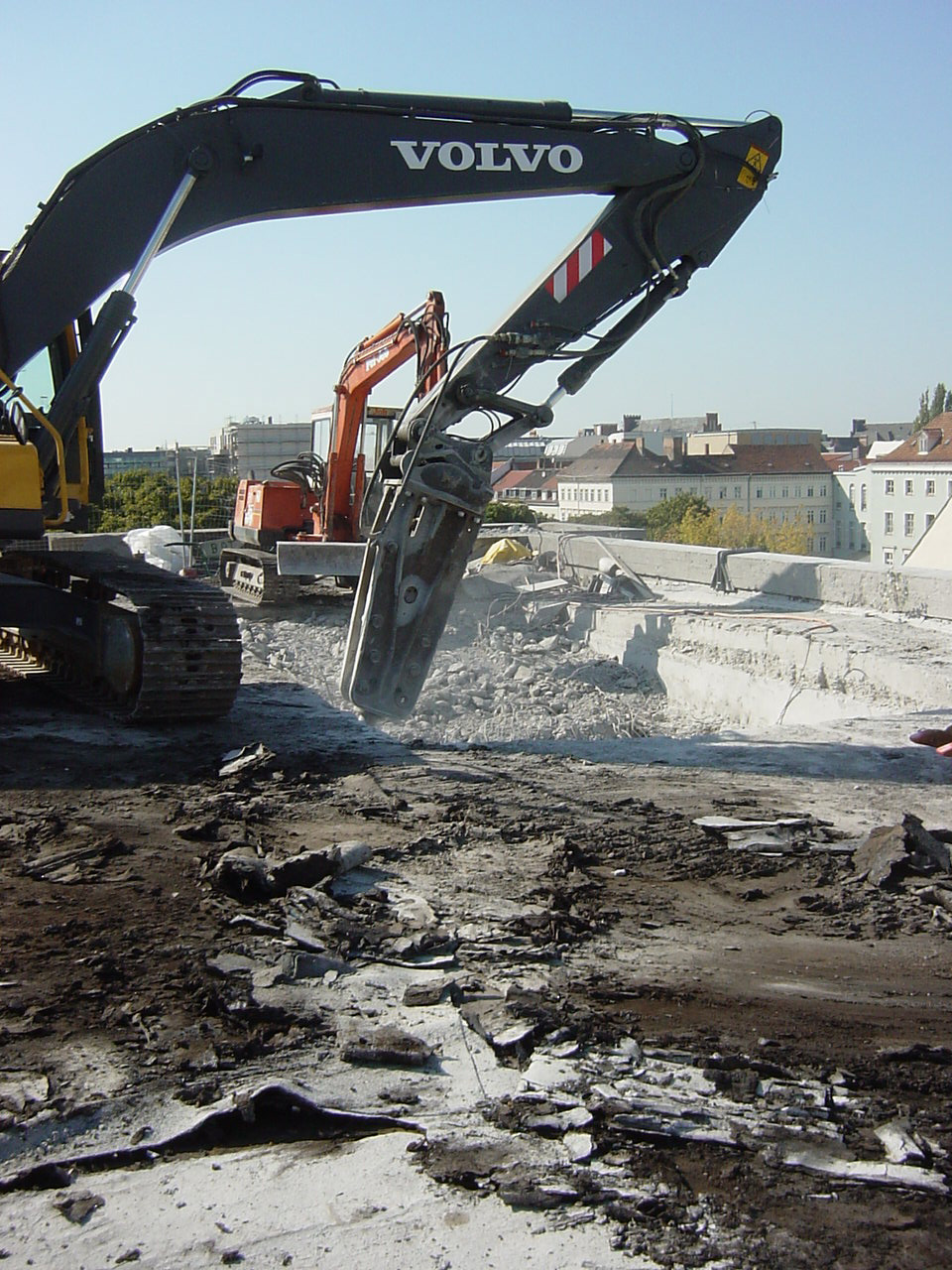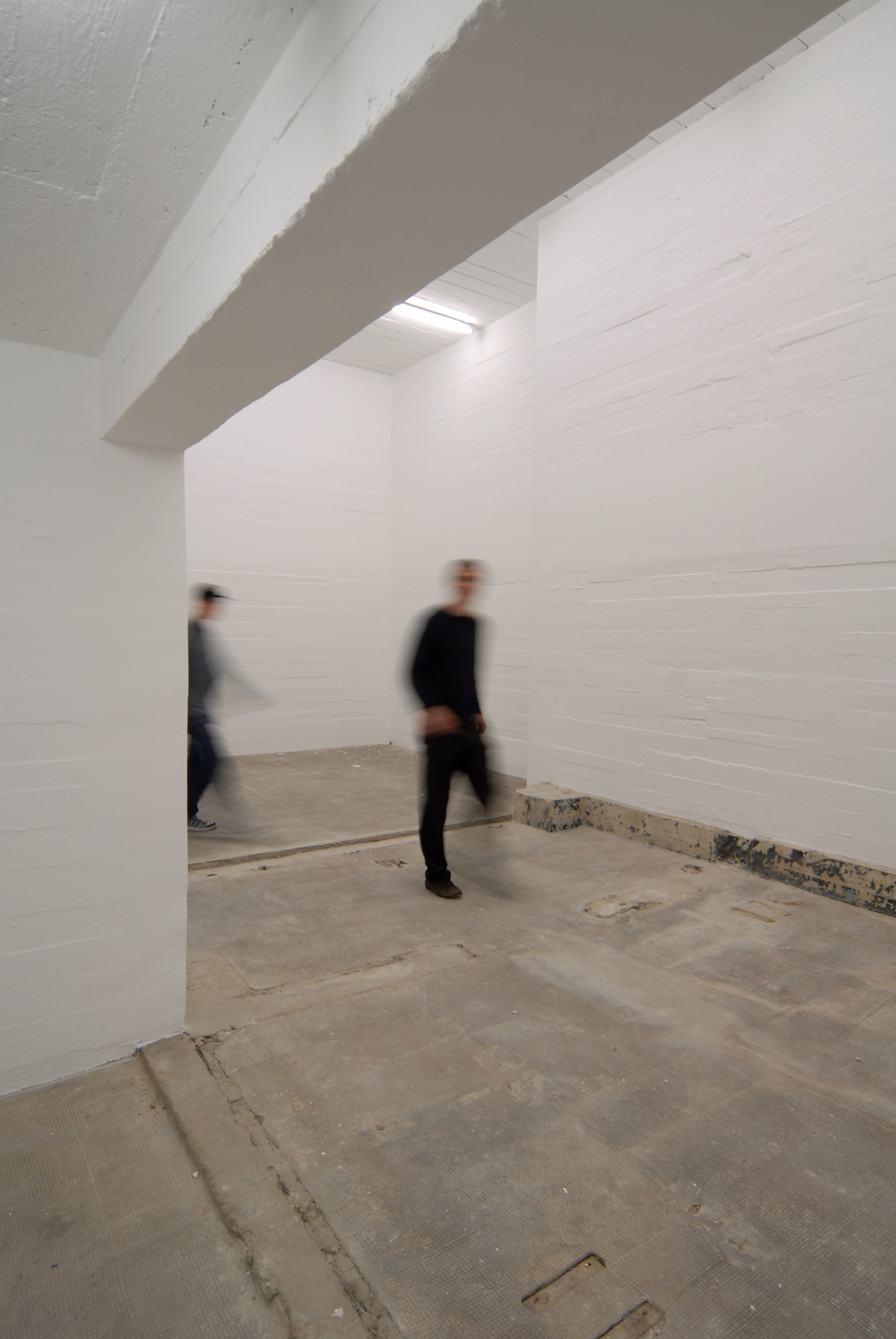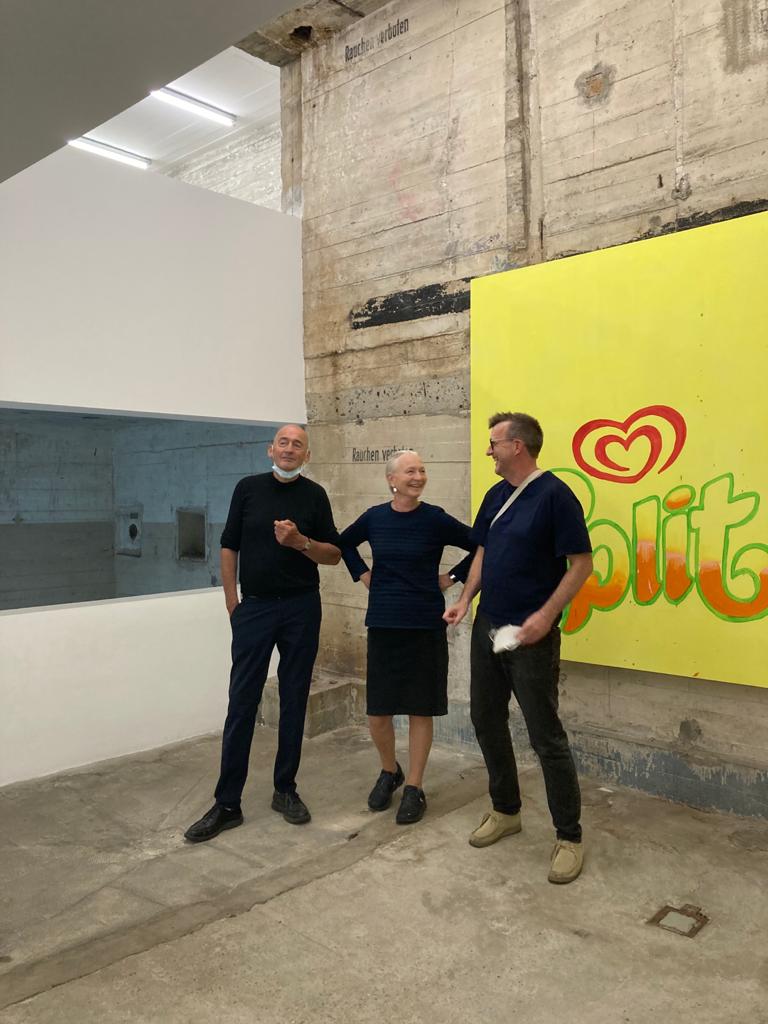 Boros Collection Residence
Private Art Collection, Residence
Location: Berlin, Germany
Year: 2003-2008
Program: Exhibition Spaces, Detached House
Client: Private
Size: 5.000sqm
Services: LP1-5
Status: Completed
Tags:
culture
,
exhibition
,
residential
Architects:

Jens Casper, Petra Petersson, Andrew Strickland aka
Realarchitektur
; Team: Jens Casper, Petra Petersson, Andrew Strickland, Wolfgang List, Bernadette Krejs, Karin Maria Derix, Dorina Siewert
Consultants:
Site Management: Thomas Heesing, Berlin; Cost control and Tender:
AO Berlin
, Frank Hüpperling und Stephan Vieweger, Berlin; Structural Engineering: Ingenieurbüro Herbert Fink, Berlin; Landscape Architecture:
bbz Landschaftsarchitekten
, Timo Herrmann, Berlin; Lighting Consultant: mediumlicht, Reinhard Germer, Berlin; Penthouse Object Design and Realization:
instantconcept
, Wuppertal; Photography:
Noshe
,
Hanns Joosten
,
Stephan Falk
The bunker, originally a Reichsbahn air raid shelter, was designed by architect
Karl Bonatz
in 1943.
"Casper machte Ernst mit der Dekonstruktion: Er nahm auseinander, baute ab, zerlegte, öffnete, spielte und erfand ein System, durch Wegnehmen neue Räume zu schaffen. Das Ergebnis ist verblüffend: rund dreitausend Quadratmeter Ausstellungsfläche, ein Raumgebilde, das sicherlich zu den spannendsten Kunstbauten der letzten Zeit gehört..."
Niklas Maak: Der Kunstbunker von Berlin, in: Frankfurter Allgemeine Zeitung, 19.April 2008
Awards:
BDA Große Nike 2010 Nomination;
BDA Nike für die beste atmosphärische Wirkung 2010 Shortlist;
Architekturpreis Berlin Auszeichnung 2009;
The Chicago Atheneum Award 2009;
BDA Preis des BDA Berlin 2009;
Deutsche Messe contract.world award 2009 3. Prize Conversion Category;
European Union Prize for Contemporary Architecture Mies van der Rohe Award Nomination 2009;
Deutsches Architekturmuseum DAM Preis für Architektur in Deutschland 2008 Shortlist;
Forum Aid Award 2008 Nomination;
Deutscher Architekturpreis Beton 2008;
Architekturpreis der Reiners Stiftung 2007 Auszeichnung;
Bibliography
:
Schofield, John/Rellensmann, Luise: Underground Heritage: Berlin Techno and the Changing City,
in: Heritage & Society, Vol. 8, No. 2, 2015, p. 111-138. 2012
One-Day-Newspaper of the Wrocław Contemporary Museum MWW
Jens Casper: Deviations. Boros Collection Berlin (Dewiacje. Kolekcja Borosa w Berlinie); Wroclaw, January 2012
ARCH+ 201/202: Berlin
Realarchitektur: Boros-Bunker; Within the architectural section of this ARCH+ issue architecture critic Florian Heilmeyer discusses a paradigm shift in the Berlin architectural production, featuring recently built examples designed by ten berlin based architectural practices, including Boros Collection / Residence. Aachen/ Berlin: Archplus, March 2011
Chichester, Katharina Lee: Die Musealisierung der Entmusealisierung: Berliner Ruinen in der Neubesetzung, in Becker u.a. (Hrsg.), Conny: Metropolitan Views II, Kunstszenen Berlin 1989-2009, Deutscher Kunstverlag, 2010, p.83-96 2010
INTERIORS NOW! Vol. 1
International Showdown: Breathtaking Interiors from Amsterdam to Xi An Taschen, Dr. Angelika (Editor)
Köln: Taschen, März 2010
INTERNI N.589
La rivista dell'arredamento.
Matteo Vercelloni: Bunker Gallery
"In this perspective, the operation [...] may seem like a single, complete conversion, but actually also makes a contribution to the definition of a methodology of 'reconstruction of the city' that can be applied case by case, underlining the need to study history and its traces in order to reinvent spaces for contemporary needs."
Milano: Arnoldo Mondadori Editore, Marzo 2009
German Architecture Annual / Deutsches Architektur Jahrbuch 2008/09
Hrsg. v. Peter Schmal Cachola u. Oliver Elser
Deutsches Architekturmuseum Frankfurt; München: Prestel, Dezember 2008
db deutsche bauzeitung 12/2008- Spätlese
Christine Fritzenwallner: Weltenübergang
"...ein perfektes Gleichgewicht zwischen Zeitzeugnis und neuer Nutzung."

Leinfeld-Echterdingen, Dezember 2008
AD - Best of Germany (Cover)
Joseph Giovannini: life at the top (Der Gipfelsturm)
"The overall impression is that of oriental discretion and a pleasant spareness that never crosses over to into minimalistic formalism."
Berlin, Oktober 2008
architektur.aktuell 09/2008
The Cultural Agenda / Kulturbau, Baukultur
"...they developed a fascinating spacial concept. Astonishingly spatial connections and visual relationships, completely unexpected vertical expansions of space with gallery levels have been created in this previously cave-like world. There is a constant shift between hard and soft, hermetic enclosure and surprising spatial expansiveness in the Boros Bunker that forms part of a highly lucid game played with space and materials, the past and the present."

Claus Käpplinger: Boros Private Collection - Art in a bunker, with a certain frisson
Wien, September 2008
PARNASS Kunstmagazin 3/08
Matthias Boeckl: Vom Krieg zum Kunstgenuß
"Die akzentuierten Interventionen in der Galerie [...] verleihen dem neuen Privatmuseum eine Leichtigkeit und einen Witz, mit dem man an diesem Ort zuletzt gerechnet hätte. So gedeutet, erhalten auch die `Architektur`-Applikationen, die einst Karl Bonatz dem Haus trotz seines finsteren Zwecks geschenkt hatte, doch wieder eine versöhnliche Dimension - sie zeigen, dass Kultur letztlich die stärkere Macht ist als der Krieg."

Wien, September 2008
surface #73
Camilla Peus: Bombs Away
"Reminiscent of a light-flooded Richard Neutra house, the space is a work of art in itself."

San Francisco / New York, September 2008
ARCHITEKTURBERLIN08 (Cover)
Jahrbuch 2008, hrsg. von der Architektenkammer Berlin
Berlin: Verlagshaus Braun, Juni 2008
Monopol 05/08
Silke Hohmann: Die Mauer ist offen!
"Man musste am Anfang eine Menge Licht im Kopf mitbringen, um wirklich eine Vision für das Gebäude zu entwickeln. Wie Maulwürfe krochen Casper und Boros durch den Bunker und versuchten, sich vorzustellen, wie es einmal werden könnte. Brachen aus den einstmals streng durchgerasterten, niedrigen Etagen ein Gefüge, das Raumhöhen zwischen zwei und zwanzig Metern parat hält - und einige spektakuläre Durchsichten über mehrere Etagen. Die architektonische Leistung - sie ist respekteinflößend - bestand hier weniger im Bauen als im gezielten Wegnehmen. Aus Stemmen, Bohren, Brechen, Sägen."
Berlin, 24.April 2008
Architektur-Preis Reiners Stiftung: Spektakuläre Häuser
Holger Reiners: Spektakuläres Assoziationspotential - spektakulär sinnliche Architektur
"Nicht nur das Projekt ist spektakulär, spektakulär ist seine ästhetische Raffinesse. Ein großer Wurf: mutig, gekonnt, und überzeugend formal in eine andere Welt transformiert. Höchstleistung!"

DVA, München, 24.April 2008
Süddeutsche Zeitung
Holger Liebs: Mit dem Klotz durch die Wand
"Das Berliner Büro Realarchitektur [...] krempelte das ganze Gebäude um wie einen Rubik´s Cube, verschachtelte es wie einen Loos´schen Raumplan - und vollendete so eine weitgehend im historischen Habit belassene Mischung aus James-Bond-Schurkenzentrale, römischen Katakomben und Parkhaus. Museal wird´s aber nie..."

München, 19.April 2008
Frankfurter Allgemeine Zeitung
Niklas Maak: Der Kunstbunker von Berlin
"Casper machte Ernst mit der Dekonstruktion: Er nahm auseinander, baute ab, zerlegte, öffnete, spielte und erfand ein System, durch Wegnehmen neue Räume zu schaffen. Das Ergebnis ist verblüffend: rund dreitausend Quadratmeter Ausstellungsfläche, ein Raumgebilde, das sicherlich zu den spannendsten Kunstbauten der letzten Zeit gehört!"

Frankfurt, 19.April 2008
Deutsches Architektenblatt 12/07
Florian Heilmeyer: Glück im Bunker
Wie aus innerstädtischen Betonfestungen des Zweiten Weltkriegs Wohnhäuser werden
Düsseldorf, Dezember 2007
032c contemporary culture, 14th issue
Niklas Maak: art under construction
"The house on the roof of the bunker and the excavated exhibition landscape are a special form of what is called superimposition in architectural theory - not merely a spatial, but also an ideological conversion, a triumph of American modernism over the theatrical thundering of Nazi architecture - of the bungalow and the free layout over the bunker. "

Berlin, Winter 2007/08
La Repubblica delle Donne
Michele Calzavara: il progetto aggiunto - sfide tedesche / on recent german architecture
"...tutte le tracce della storia di questo straordinario edificio sono rimaste intatte e visibili, e dialogano con le opere d'arte, i cui singoli spazi sono allestiti in collaborazione con proprietario e artista esposto. Un lavoro corale, dunque, che a breve aprirà al pubblico."

Milano, 20.10.07
Metropolis Magazine October 2007
David Sokol: Bunker Chic
"The architects stripped GDR-era extensions form Karl Bonatz´s original design, now a landmark, but otherwise retained the exterior vestiges of the past. For the apartment, Realarchitektur used the bunker as a muse. Raw finishes and exposed elements evoke the materials
and topography downstairs."
New York, 12.10.2007
Frankfurter Allgemeine Sonntagszeitung
Niklas Maak: Kunst im Bau
"Jedenfalls ließ Casper den Bau in jahrelanger Arbeit [...] aushöhlen wie einen Felsen: Er verband die klaustrophobischen Bunkerräume zu Atrien, brach Blickachsen hinein, schuf Raum für große Skulpturen und verwandelte die engen Kammern in ein großzügiges Labyrinth aus Räumen, die ineinander laufen, sich überlagern, aufbrechen wie in Le Corbusiers fühen Villen. Casper dekonstruierte den Bunker im eigentlichen Sinne des Wortes: nahm auseinander, baute ab, machte offener, spielerischer, erfand ein mobiléhaftes, kunstvolles System, durch Wegnehmen Räume zu schaffen."

Frankfurt, 22.07.2007
The Art Newspaper
Gareth Harris and Jill Wagner: Nazi bunker transformed
"Ceilings and walls were removed to create new areas [in the Bunker]. It is not a typical ´white cube´ exhibition space. Many works on view will be site specific... The architect added: There is no thermal insulation and no air conditioning; it is more like a rough experimental space."

London, 01.07.2007
Forum AID 2.07
Laura Houseley: Springtime for the bunker
Forum AID Quarterly Review of Nordic Architecture, Interiors and Design, Stockholm 09.05.2007
MARK#6
Florian Heilmeyer: Gimme Shelter
Art in a former air-raid bunker - that makes for some impressive spaces
"Our approach to the design was almost sculptural. Much of what we did was decided on site, and most of the building was left untouched. We walked around with the owner deciding which walls and ceilings we would cut out of the labyrinth of about 80 meagre rooms..."
MARK Magazine / Another Architecture, Amsterdam, 19.01.2007 2007
VANITY FAIR Nr 7
Gabriele Thiels: Ein Bunker für die Kunst
"...alles zusammen genommen dürfte es selbst in der Kunstmetropole Berlin, Flick Collection hin, Bode-Museum her, so ziemlich das spektakulärste Projekt sein, dass seit Jahren verwirklicht wurde..."

Berlin, 08.02.2007
Arkitekten 1.07
Thomas Lauri: Betong i kubik - Berlinbunker blir konsthall
"Huset gör sitt bästa för att svära sig fri från tiden. Det är som en materiell målning. Det gär att tänka på den tyske målaren Anslem Kiefer."

Stockholm, January 2007
Bauwelt 3.07 (Cover)
Nils Ballhausen: Für Sammlung und Familie: Bunker Umbau in Berlin
Berlin, Januar 2007
DUMMY #13
Oliver Gehrs: Scheiße stirbt auf jeden Fall
"Denn das ist das blöde, wenn man das schönste Haus der Stadt bewohnt: Man schaut zwangsläufig auf weniger schöne."
Berlin, Winter 2006/2007

archplus 180 Convertible City
Catalogue of the german contribution for La Biennale di Venezia, 10th International Architecture Exhibition
Aachen und Berlin, September 2006