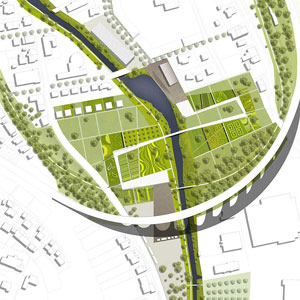 Nagold an die Nagold
Landscape Design
Competition Entry, 4th prize
Location: Black Forest, Germany
Year: 2007
Program: Urban Reorganization, Horticultural Show
Client: bwgrün.de
Tags: landscape, urbanism

Design:
bbz.landschaftsarchitekten, Hahn von Hantelmann and Jens Casper Dipl.-Ing. Architekt BDA, Team: Timo Herrmann, Ellen Kallert, Inga Hahn, Jens Casper

The Landesgartenschau is a garden festival of the federal state of Baden-Württemberg held every years in another town. An urban development of so far unattended areas on the edge of town as well as in the center of Nagold was to be initiated by the Landesgartenschau 2012 by means of activation of former wastelands and the banks of the river Nagold. The competition was held five years before the festival.